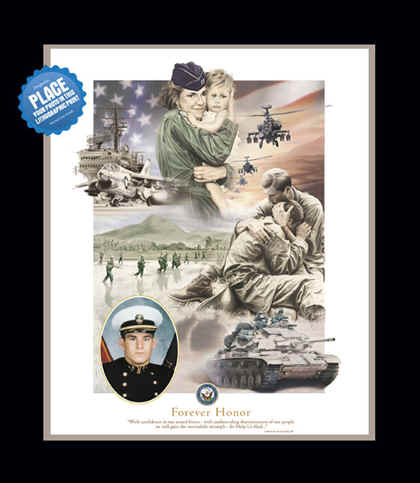 Item # FR-9 Forever Honor
... honoring our Heroes who served our Nation
Special Edition Lithograph
Artist: RS
Print comes already matted with a place in lower left for your loved ones picture; and materials to personalize for Branch of Service and Dates Served.
COPY FOR THE CERTIFICATE OF AUTHENTICITY
About the Painting
Artist Simon has created a painting that pays tribute to the men and women who served our great nation in peacetime and war. The painting "Forever Honor" features events from Korea, Vietnam, The Golf War and Iraqi Freedom. Featured in the painting is a Air Force Reservist holding her daughter as she returns home from a mission to the Gulf. Fading to the upper right is a row of A464D Longbow Apache Helicopter storming over the desert sky. An A7 Corsair II leaves the deck of an aircraft carrier as the stars and stripes are ghosted through the sky as a constant reminder or our concept of liberty. Below the painting is a rifle company of the U.S. 1st Cavalry Division, moving through a rice paddy in the coastal part of Binh Dinh Province. Directly to the right is a infantryman being comforted as casualty tags are made out during the Korean War. The bottom right features a M60A3 tank blazing through the desert towards Baghdad during the liberation of Iraq. This painting will "Forever Honor" our courageous soldiers who have always sacrificed their lives to preserve the American way of life and all she stands for.
"With confidence in our armed forces – with the unbounding determination of our people – we
will gain the inevitable triumph – So Help Us God."
- F.D.R. December 08, 1941
Commemorative Artwork, Commemorative Art, Inspirational Art, Inspirational Artwork Print, Inspirational Lithographic Art Poster, Peacetime Servicemen Art, Art for our Armed Services Veterans, Vietnam War Veterans Photos, Vietnam Veterans Conflict Art, Vietnam War Commemorative Artwork, Inspirational Art Prints, Honoring Servicemen Artwork, Soldier Artwork, Soldiers posters, Marines Art, Navy Artwork, Army poster, Army Art, Patriotic War time Posters, Patriotic Veterans Poster, Simon Artist