Used Framing Equipment: Mat Cutters, Moulding Cutting & Joining Equipment, Mounting Presses, Hand Tools
We buy & sell pre-owned picture framing equipment. We also help you to sell your used framing equipment, and help you save on equipment that you may need. All Items are sold "As Is". Although we strives get obtain the best information from the seller, AIM is not responsible from inaccuracies provided to us by seller. It is the responsibility of the buyer to crosscheck information with seller or manufacturer regarding descriptions that appear in this catalog.
Do you have Questions? Feel free to our office at 330-405-9421, M-F, 10AM-5PM EST or Email us at info@skylinepictures.com
Section 1: Mounting Equipment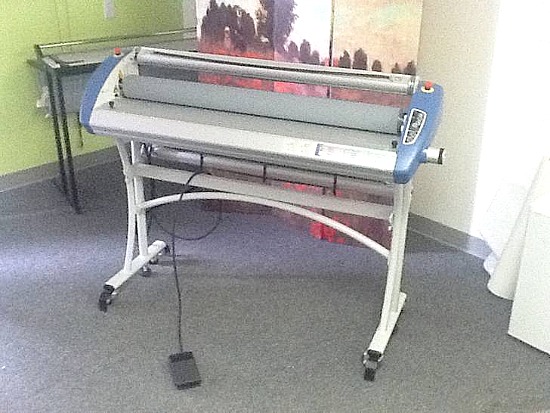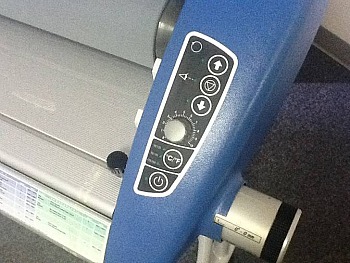 UFE-M1106 Seal 44 Pro 42" Roller Laminator w/ Heat Option

This unit is in Good Condition.
***Reduced***Price $2,995
This item can be picked up in Michigan or shipped for an additional fee by a crate & freight company. Shipping is not the $6.50 default found in the shopping cart.
Terry-MI-9-13-11 $3,100 / 5-22-12 $2,995 s
Below information is from the manufacturer / distributor website:
.... offers complete pressure sensitive mounting and laminating, heat assisted or full heat activated overlaminating and two-pass hot sealing up to 41-inches
For over 60 years SealŪ has been a world leader in graphic finishing technology. Today, our full range of presses, ImageTM Roller Laminators, and Laminating Films and Adhesives are bringing new levels of performance, versatility and ease of use to image finishing. Whether you are working with electrostatic, ink jet, photographic or plain paper media, from basic dry mounting to E-stat image transfer for outdoor applications, Seal has a system to meet your needs.
Seal Image Roller Laminators offer large-format finishing of electrostatic, ink jet, photographic or plain paper media. They are available in a range of sizes and capabilities from the 41-inch pressure-sensitive units like the Seal 400.
Also note: Although we strive for accuracy, some specifications are provided to us by seller. It is a good idea to double check specifications by manufacturing company for possible errors of information. Feel free to call us if you have further questions before purchasing.
Return to Mounting Equipment Page #57
Return to Industrial Printing Equipment Page #15
We Accept: Visa/MasterCard/Discover/Debit/Certified Check or Money Order
Produced By: A.I.M. Enterprises, Inc. Phone: 330-405-9421
(c) Copyright 2014 All rights in all media reserved.
Used Seal 44 Pro 42" Roller Laminator, Seal I-400 Dual Heated Roller Laminator, Used Seal Heat Laminating Machine, Craigslist Ebay Seal 400 Heated Laminator Roller, Used Picture Framing Equipment for Sale, Pre-Owned Heat Press for Laminating Artwork Photographs, Boxes of Finish Guard, Buffer Mount, Release Paper, Foam Overlay, Heat Presses for Frame Shops Art Galleries, Bienfang Hunt Corporation, Large Commercial Heat Mount Press, Buy Used Framing Frame Shop Equipment Store, Bainbridge Artcare Bevel Accents, Selling Sell Your Framing Equipment, Buy Used Framing Equipment, Discount Framing Equipment, AIM Enterprises Inc Dealer Distributor Supplier of Used Framing Equipment