Used Framing Equipment: Mat Cutters, Moulding Cutting & Joining Equipment, Mounting Presses, Hand Tools
We buy & Sell pre-owned picture framing equipment. We will help you sell your used framing equipment, and help you save on equipment that you may need.
Do you have Questions? Feel free to our office at 330-405-9421, M-F, 10AM-5PM EST or Email us at info@skylinepictures.com
Section 1: Mounting Equipment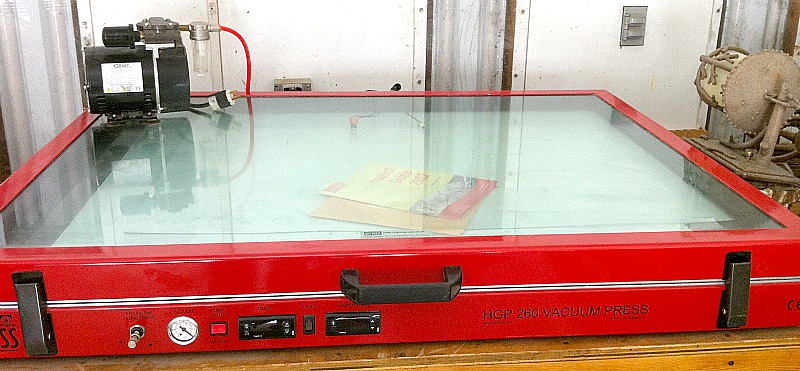 UFE-M1027 Hotpress HGP 260 Vacuum Press
This unit is in Almost New / Excellent Condition..
From the seller: "... only 2-3 hours of operation... Manufactured in 02; purchased in 02 or 03. ... have not tested. Also have: a whole roll of SRP119 - Clear Silicone Release Film - dbl sided 2 mil 50"x32"; Partial roll HSF192P pre-pierced satin matte laminating film 41"x50"; and partial roll of regular hotpress adhesive tissue."
Price $1,795
This item can be picked up in Georgia, or shipped for an additional fee by common carrier. Shipping is not the $6.50 default found in the shopping cart.
Beth/Jeff-GA-2-1-11
Below photo & following info is about this model coming from manufacturer/distributors:
Manufacturer: Tullis Russell Hot Press Ltd. - UK
Overall size: 39"X51 & Working area: 35"X47"
Time to Vacuum: 20 sec. ; Time Temperature: 12 min.
Wattage 2.5 kW; Current: 11 Amp. Net weight: 159 lbs.
Heated Glass Top Vacuum Press for established standard in dry mounting technology. Handles a wide range of presentation materials from foam board and wood to photos, art prints and delicate fabrics. It is a brand well regarded by picture framers and other finishing professionals for its ability to produce consistent, high-quality results. It is excellent in laminating. Glass top allows jobs to remain visible during processing. State of the art heating system, adjustable pressure controls, programmable vacuum cycle, quick, accurate temperature adjustment dedicated vacuum pump. All models feature an automatic electronic timer with a manual override switch and vacuum pressure adjustment capabilities. Upon completion of the cycle, vacuum pressure is automatically released and the timer resets itself.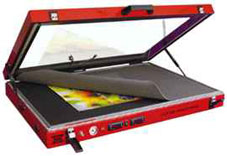 Also note: Although we strive for accuracy, some specifications are provided to us by seller. It is a good idea to double check specifications by manufacturing company for possible errors of information. Feel free to call us if you have further questions before purchasing.
Return to Mounting Equipment Page #21
We Accept: Visa/MasterCard/Discover/Debit/Certified Check or Money Order
Produced By: A.I.M. Enterprises, Inc. Phone: 330-405-9421
(c) Copyright 2011 All rights in all media reserved.
Hotpress HGP 220 260 360 Vacuum Press, Hot Press Company England, HGP 220 260 360 Combination Vacuum Heat Press, Used For Sale HGP 360 Vacuum Press, Manufacturer Tullis Russell Hot Press Ltd. UK, Used Dry Laminating Heat Mount Mounting Press, Used Picture Framing Equipment for Sale, Pre-Owned Heat Press for Laminating, Heat Presses for Frame Shops Art Galleries, Large Commercial Heat Mount Press, Framing Tools, Buy Used Framing Frame Shop Equipment Store, Selling Sell Your Framing Equipment, Buy Used Framing Equipment, Used Framing Equipment Dealer Catalog, Discount Framing Equipment, AIM Enterprises Inc Dealer Distributor Supplier of Used Framing Equipment, Used VacuSeal Bienfang Seal Model 4468H 5298H 4366M-HS Hot Cold Vacuum Press