Used Framing Equipment: Mat Cutters, Moulding Cutting & Joining Equipment, Mounting Presses, Hand Tools
We buy & Sell pre-owned picture framing equipment. We will help you sell your used framing equipment, and help you save on equipment that you may need.
Do you have Questions? Feel free to our office at 330-405-9421, M-F, 10AM-5PM EST or Email us at info@skylinepictures.com
Section 1: Mounting Equipment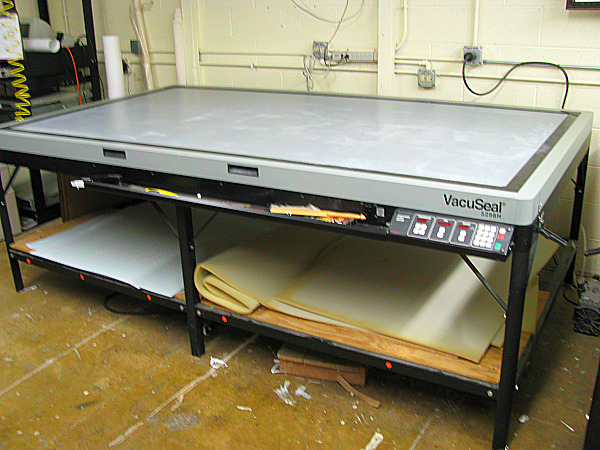 UFE-94 Vacuseal Model 5298H Vacuum Dry Mount Press
This unit is in Good Working Condition coming from a frame shop which is in the process of closing.
Vacuseal Vacuum Press, 5298H. programmable combination vacuum press.
Working area: 48" X 96" - Outside dimensions: 109" x 65" x 7" - Net Wt.: 375 lbs - Shipping Wt: 800 lbs
Power requirements: 208-230V/Single Phase - Watts-amps: @230VAC (26 amps)
Stand included
Item # UFE-94 $ 3,995
This item can be picked up in Texas or shipped for an additional fee by common carrier. Shipping is not the $6.50 default found in the shopping cart.
Scott-TX-11-3-11
Manufacturer's Info:
The Seal 5298H Vacuum Dry Mount Press is another leap forward for the Seal/Bienfang company. As the leading company for photo finishing and mounting, Seal has produced a dry mount press that also pre-dries your board, thereby saving time. This press can handle big jobs and handles multiple pieces at the same time.
Bienfang Vacuum Presses are designed to automatically control the four main variables of mounting: moisture, pressure temperature and time. This assures consistent results. There are two simple ways to operate the Vacuum Press: by setting each control individually or by using convenient programmed settings. Some settings are preset at the factory but you can also set your own programs for procedures you conduct repeatedly.
Platen temperature is maintained at +/- 2° F of the set temperature.
Also note: Although we strive for accuracy, some specifications are provided to us by seller. It is a good idea to double check specifications by manufacturing company for possible errors of information. Feel free to call us if you have further questions before purchasing.
Return to Mounting Equipment Page #39
We Accept: Visa/MasterCard/Discover/Debit/Certified Check or Money Order
Produced By: A.I.M. Enterprises, Inc. Phone: 330-405-9421
(c) Copyright 2011 All rights in all media reserved.
Bienfang Vacuseal Seal 5298H Programmable Combination Vacuum Heat Press, Used Bienfang 5298 5298H 100" 100 inch Vacuum Press Hot Cold Heat Large Programmable Combination Vacuum Heat Press, Preowned Bienfang 52x98 48x96 Vacuum Vaccum Heat Press, Used The Print Mount Company Laminating Heat Mount Mounting Press, Used Picture Framing Equipment for Sale, Pre-Owned Heat Press for Laminating Artwork Photographs, Boxes of Finish Guard, Buffer Mount, Release Paper, Foam Overlay, Heat Presses for Frame Shops Art Galleries, Bienfang Hunt Corporation, Large Commercial Heat Mount Press, Buy Used Framing Frame Shop Equipment Store, Bainbridge Artcare Bevel Accents, Selling Sell Your Framing Equipment, Buy Used Framing Equipment, Discount Framing Equipment, AIM Enterprises Inc Dealer Distributor Supplier of Used Framing Equipment