Used Framing Equipment: Mat Cutters, Moulding Cutting & Joining Equipment, Mounting Presses, Hand Tools
We buy & Sell pre-owned picture framing equipment. We will help you sell your used framing equipment, and help you save on equipment that you may need.
Do you have Questions? Feel free to our office at 330-405-9421, M-F, 10AM-5PM EST or Email us at info@skylinepictures.com
Section 3: Mat Board / Glass Cutting Equipment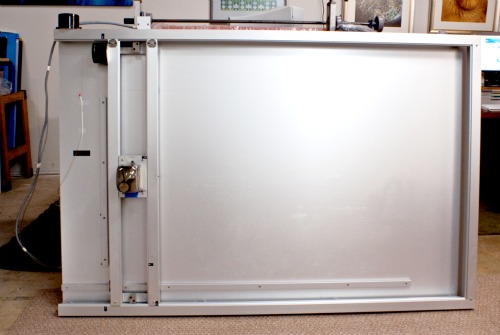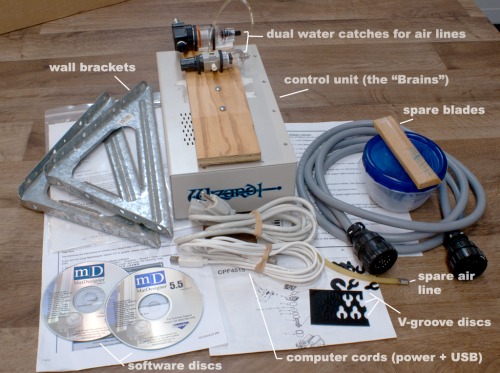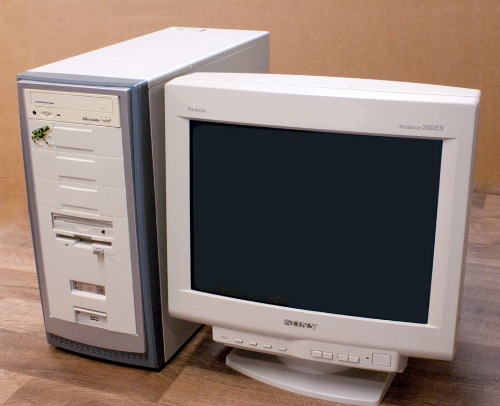 UFE-400 Wizard 5000 CMC Mat Cutter
Computerized Mat Board Processing Equipment
This Wizard is in Good Working condition. Includes: Computer, Monitor, software, manual, and accessories, included.
**** Reduced *** Price: $3,995
From the seller:
" I've always used a 40"x60" slip sheet (seconds from Larson-Juhl) on the board at all times to protect the surface of the Wizard, also the tip of the blades. One or two dork-outs put a couple of scratches on the surface, cosmetic only, when I forgot to put back in the slip sheet.
The dark blue beneath the head is some blue masking tape I used to hold things in place when I moved the Wizard to photograph it. It comes off - honest!
The photo of the accessories shows the discs, blades (one full pack and the clear container with a blue lid holds about 50-60 more loose blades, all new), spare hose, wall angle brackets, power and USB cables (I have extra USB & Firewire cables that can be thrown in for 'negotiation' purposes), software discs (also loaded on computer). I also have all my profiles I created in a file which they can have ... mostly double mats for standard, letterbox, and panoramic formats. Several dozen.
NOTE: Does also come with the instruction manual from Wizard. If you need a photo of it, I will get one sent off. It is the 3-ring binder with all the low down on how to do things, make adjustments, etc."
This item can be picked up in the Indiana, or crated & shipped for an additional fee by Common Carrier. Shipping is not the $6.50 default on the order page.
Ron-IN-1-6-11 $4,995 / 2-11-11 $4,495 / 3-30-11 $3,995
Extended Warranty is Available
Wizard International Phone 888-855-3335 www.wizardint.com
Return to Mat Board Glass Cutting Equipment Main Page #35
We Accept: Visa/MasterCard/Discover/Debit/Certified Check or Money Order
Produced By: A.I.M. Enterprises, Inc. phone: 330-405-9421
(c) Copyright 2011 All rights in all media reserved.
Wizard CMC 5000 8000 8500 Mat Cutter, Ebay Used Wizard CMC 8500 8500e CMC Computerized Mat Board Processing Equipment, Craigslist Pre-Owned Wizard 5000 8500 8500e Mat Cutter for Frame Shops Art Galleries, Picture Framing Equipment for Sale, Framing Tools, Buy Used Framing Frame Shop Equipment Store, With Squaring Arm, Manual, Selling Sell Your Framing Equipment, Buy Used Framing Equipment, Discount Framing Equipment, AIM Enterprises Inc Dealer Distributor Supplier of Used Framing Equipment