Used Framing Equipment: Mat Cutters, Moulding Cutting & Joining Equipment, Mounting Presses, Hand Tools
We buy & sell pre-owned picture framing equipment. We also help you to sell your used framing equipment, and help you save on equipment that you may need. All Items are sold "As Is". Although we strives get obtain the best information from the seller, AIM is not responsible from inaccuracies provided to us by seller. It is the responsibility of the buyer to crosscheck information with seller or manufacturer regarding descriptions that appear in this catalog.
Do you have Questions? Feel free to our office at 330-405-9421, M-F, 10AM-5PM EST or Email us at info@skylinepictures.com
Section 3: Mat Board / Glass Cutting Equipment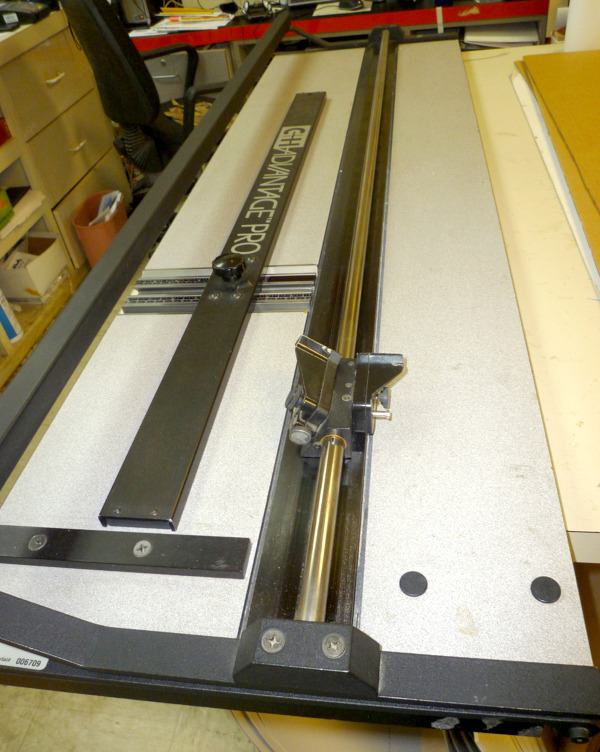 Item # UFE-360 C&H M48 Advantage Pro Mat Cutter
Straight Line Cutter / Mat Board Cutter
This unit is in good working condition, coming from a framing shop that is in the process of closing..
Below info is from manufacturer's site:
The C&H Advantage Pro Mat Cutters are the ultimate machines for commercial applications as well as home users who want the finest equipment available. These are the most durable mat cutters on the market today, built for the most demanding professionals. C&H Mat cutters have a list of features that no other manufacturer can match, including single-point adjustment, heavy duty nickel-plated steel rod, auto-repeat V-groove increments marked on the mat guide ruler. Check out this site for parts and accessories. http://www.framingsupplies.com/C+H/C+HAdvantageProPlus.html#.10
It is always good to compare this item with manufacturer's website for accuracy & changes that may have occurred since this model was manufactured.
Item # UFE-360 $400
This item can be picked up in New Jersey, or shipped for an additional fee by common carrier. Shipping is not the $6.50 default on the order page.
LOUIS-NJ-10-3-10
Return to Mat Board Glass Cutting Equipment page #28
We Accept: Visa/MasterCard/Discover/Debit/Certified Check or Money Order
Produced By: A.I.M. Enterprises, Inc. phone: 330-405-9421
(c) Copyright 2011 All rights in all media reserved.
Used C&H Model 48 Advantage Pro Mat Cutter 48" 48 Inch Straight Line Cutter, with Squaring Arm and Production Stops, Artist Professional CNH CHN C&H Advantage Pro Model 48A Mat Cutter 48 Inch, Used Picture Framing Equipment Parts for Sale, Craigslist Ebay CH AdvantagePro Model 48A Mat Cutter, For Sale, Fletcher 2100, Pre-Owned C&H Advantage Pro Model 48A Mat 48" Cutter for Frame Shops Art Galleries, Framing Tools, Buy Used Framing Frame Shop Equipment Store, Selling Sell Your Framing Equipment, Buy Used Framing Equipment, Discount Framing Equipment, AIM Enterprises Inc Dealer Distributor Supplier of Used Framing Equipment