Used Framing Equipment: Mat Cutters, Moulding Cutting & Joining Equipment, Mounting Presses, Hand Tools
We buy & sell pre-owned picture framing equipment. We also help you to sell your used framing equipment, and help you save on equipment that you may need. All Items are sold "As Is". Although we strives get obtain the best information from the seller, AIM is not responsible from inaccuracies provided to us by seller. It is the responsibility of the buyer to crosscheck information with seller or manufacturer regarding descriptions that appear in this catalog.
Do you have Questions? Feel free to our office at 330-405-9421, M-F, 10AM-5PM EST or Email us at info@skylinepictures.com
Section 3: Mat Board / Glass Cutting Equipment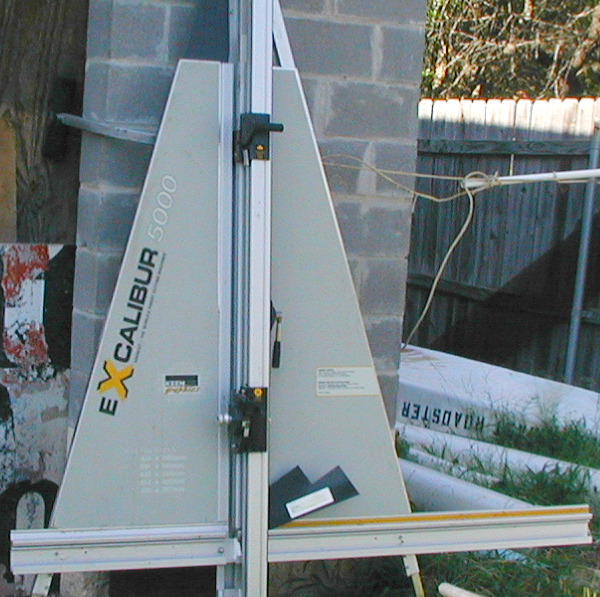 Item # UFE-332 Keencut Excalibur 5000 63" Multi Material Cutter
This unit is in good working condition This unit is about 8 years old.
Serial # G6257
List Price $2,695
Item # UFE-332 $775
Manufacturers info:
Description

Keencut Excalibur 5000 63" Foam Board Cutter

The Keencut Excalibur 5000 63" Precision Foam Board Cutter is the essential finishing tool for every printer, graphics, photo, sign and framing workshop. Four precision cutters in one easily, cleanly and accurately trim a wide range of sheet materials in square with minimum effort. The Excalibur 5000 cuts vertically, providing the ultimate in space saving convenience. The super-grip clamp holds even thick materials at any required angle and the clear rule along the cutting line allows easy alignment to artwork, lines or registration marks. The bottom cutting head is an ingenious indexed turret mounted that instantly locks any of the three cutting tools into position with no screws or tools required. The Excalibur 5000 is built to last for many years in continuous service and embodies the highest standards of engineering excellence combined with outstanding value.

Features

Manual 63" foam board cutter
Standard medium duty utility blade cuts foamboard, gatorboard, sintra, corrugated cardboard and honeycomb plastics up to 1/2" thick
Sturdy metal base with pre-printed guidelines
Stainless-steel rotary blade cuts in both directions
Scoring blade for acrylics and other rigid plastics
Tungsten carbide cutting wheel scores glass and mirrors up to 1/4" thick
The top Twin Wheel Cutting Head cuts 1/8" uncoated masonite, 1/8" matboard, .040 aluminum and 3mm Dibond
Optional free standing kit available
This item can be picked up in the Texas, or shipped for an additional fee by freight company. Shipping is not the $6.50 default on the order page.
JAY-TX-7-21-10
Return to Mat Board Glass Cutting Equipment page #23
We Accept: Visa/MasterCard/Discover/Debit/Certified Check or Money Order
Produced By: A.I.M. Enterprises, Inc. phone: 330-405-9421
(c) Copyright 2011 All rights in all media reserved.
Used Keencut Excalibur 5000 Precision 63" Foam Board Cutter, Keencut Excalibur 5000 Multi Material Multi-material Glass Cutter 63 Inch Cutter, Discounted Glass Cutter, Foam Board Cutter, Mat Trimmer, Craiglist Ebay Keencut Excalibur 5000 Artist Professional, Promotional Priced Used Professional Frame Shop Picture Framing Equipment for Sale, Fletcher 3000 3100, Pre-Owned C&H Advantage Pro Model 60" Glass Plexyglass Cutter for Frame Shops Art Galleries, Framing Tools, Buy Used Framing Frame Shop Equipment Store, Selling Sell Your Framing Equipment, Buy Used Framing Equipment, Discount Framing Equipment, AIM Enterprises Inc Dealer Distributor Supplier of Used Framing Equipment