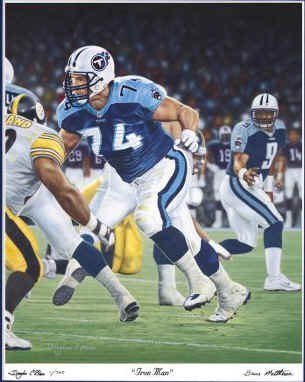 NSH-6 " Iron Man "
Tennessee Titans Bruce Matthews
Personally Autographed by Bruce Matthews
NFL Licensed Tennessee Titan Print
Signed / # Print Limited Edition of 740
Artist: DH-VHP
Image Size: 18 3/4" x 22 3/4
Remarque Prints (4) Image Sizes: 3" x 3".


Each print includes a set of remarques, Titans logo seal, Certificate of Authenticity and Meaning of the Composition Description
"Iron Man" is the second collector print in a series capturing great moments in Tennessee Titans sports history. The first print, "Music City Miracle," was released as a limited edition print with a quantity of 1,000. The original print reached sold out status within seven months and continues to increase in value. With the recent announcement of Bruce Matthews' retirement, we expect that "Iron Man" will also become a highly sought after and coveted collector print as well. Artist Hess captures future Hall of Famer, Bruce Matthews, in "Iron Man." The print portrays the intensity, drive and dominant physical presence of arguably the greatest offensive lineman ever to play in the NFL.
Autographed Bruce Matthews Art Print, Tennessee Titans Football Pictures, Iron Man Offensive Lineman Tennessee Titans Football Photos, NFL Licensed Tennessee Titans Autograph Art, Tennessee Titans Posters, Future Football Hall of Famer Bruce Matthews Poster. Artist Hess