Used Framing Equipment: Mat Cutters, Moulding Cutting & Joining Equipment, Mounting Presses, Hand Tools, Print Bins, Racks, Rounder
We buy & Sell pre-owned picture framing equipment. We will help you sell your used framing equipment, and help you save on equipment that you may need.
Do you have Questions? Feel free to call our office at 330-405-9421, M-F, 10AM-5PM EST or Email us at info@skylinepictures.com
Section 4: Frame Shop Racks, Print Bins, Rounders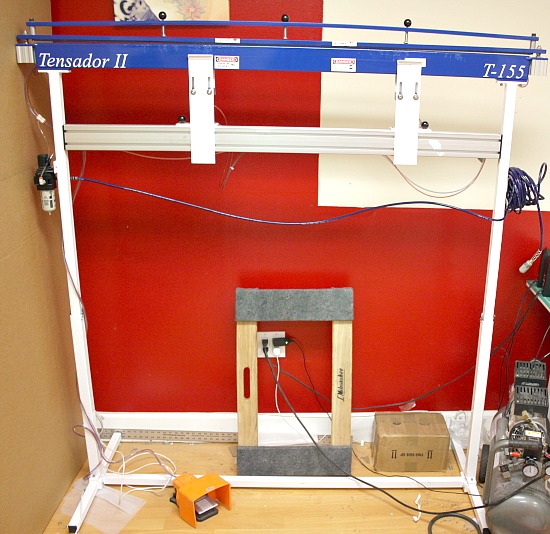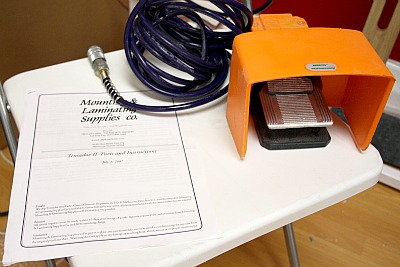 UFE-F503 Tensador II T155-G 60" - Canvas Stretcher
This will do Gallery Wrap.
It is in Excellent Condition. Used for about 1 year.
Does not includes compressor, but it does include items seen in second picture.
Retail List: $3,525
Price $2,295
This item can be picked up in California or shipped for an additional fee by UPS or common carrier. Shipping is not the $6.50 default on the order page.
Brian-CA-2-28-12
Below Images & Information are from the Manufacturer's Website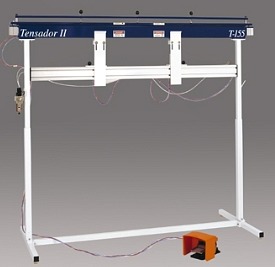 Stretching canvas has never been so quick and easy. PLUS, You can gallery wrap the sides.
Safely stretch giclees, canvas transfers and oil paintings. Gallery wrap option allows you to staple on the side and backs of stretcher bars. The unique clamping mechanism grips canvas without harmful piercing. The Tensador II 155 G is easy to operate and is designed to stretch canvas from 8" x 10" through 60" x 60". The T-155 G allows stapling on the back or sides of the canvas stretching bars.
Pneumatic filter and air pressure with foot activated safety pedal. Canvas clamp opening 1/2", adjustable foot levelers, durable powder coat finish.
Requires 1 1/2" of canvas from the back side of the stretch bar for gallery wrap or 3/4" from the back of the stretcher bar to staple on the sides of bars. Gallery wrap staple requires staple gun with 1 1/2" nose length or greater.
Proudly manufactured in the USA by Mounting & Laminating Supplies. Machine dimensions - weight 75 Pounds, width 68", depth 25" height 55" or 77". Air pressure requirement, 60 psi. One year replacement parts warranty.
Return to Frame Shop Equipment Page #20
We Accept: Visa/MasterCard/Discover/Debit/Certified Check or Money Order
Produced By: A.I.M. Enterprises, Inc. phone: 330-405-9421
(c) Copyright 2013 All rights in all media reserved.
Used Tensador II T-155G Stretching Machine Canvas Stretcher, Canvas Stretching Machines, Tensador II T125G T-125-G Gallery Wrap Pneumantic Canvas Stretcher, New Tensador II Tensader Tensador Gallery Stretcher 48" 60", Canvas Stretcher 48" Gripper width Gallery Wrap and Standard Stretch, Used Tensador II 48" 48 Inch Sixty Inch Stretching Machine Art Canvas Stretcher, Used Gallery Frame Shop Equipment for Sale, Pre-Owned Used Picture Framing Equipment for Sale for Frame Shops Art Galleries, Buy Used Framing Frame Shop Equipment Store, Selling Sell Your Framing Equipment, Buy Used Framing Equipment, Discount Framing Equipment, AIM Enterprises Inc Dealer Distributor Supplier of Used Framing Equipment