Used Framing Equipment: Mat Cutters, Moulding Cutting & Joining Equipment, Mounting Presses, Hand Tools
We buy & Sell pre-owned picture framing equipment. We will help you sell your used framing equipment, and help you save on equipment that you may need.
Do you have Questions? Feel free to our office at 330-405-9421, M-F, 10AM-5PM EST or Email us at info@skylinepictures.com
Section 2: Frame Moulding Cutting & Joining Equipment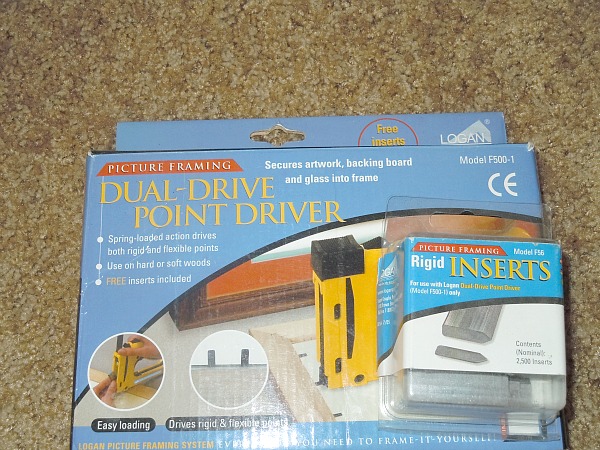 UFE-1706 Logan 500-1 Dual Drive Point Driver - F5001
These are Good Condition
Include a partial box of rigid inserts / tabs for driver / Partial box of Logan F56 Rigid Inserts 2500 qty package /Use with Logan Dual-Drive Point Driver Model F500-1.
$ Not Yet Priced
This item can be picked up in Colorado or shipped for an additional fee by UPS. Shipping is not the $6.50 default on the order page.
Nicole-CO-7-19-12/679
Return to Frame Moulding Cutting & Joining Equipment page #171
We Accept: Visa/MasterCard/Discover/Debit/Certified Check or Money Order
Produced By: A.I.M. Enterprises, Inc. phone: 330-405-9421
(c) Copyright 2012 All rights in all media reserved.
Logan 500-I Dual Drive Point Driver, Pre-Owned Used Professional Framer's Equipment for Frame Shops Art Galleries, Framing Tools, Used Parts Part, Used Blade Blades Motor, Buy Used Framing Frame Shop Equipment Store, Selling Sell Your Framing Equipment, Buy Used Framing Equipment, Discount Framing Equipment, AIM Enterprises Inc Dealer Distributor Supplier of Used Framing Equipment