Used Framing Equipment: Mat Cutters, Moulding Cutting & Joining Equipment, Mounting Presses, Hand Tools
We buy & Sell pre-owned picture framing equipment. We will help you sell your used framing equipment, and help you save on equipment that you may need.
Do you have Questions? Feel free to our office at 330-405-9421, M-F, 10AM-5PM EST or Email us at info@skylinepictures.com
Section 2: Frame Moulding Cutting & Joining Equipment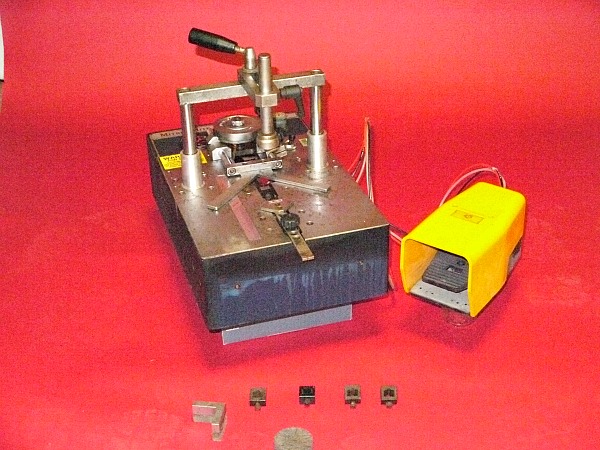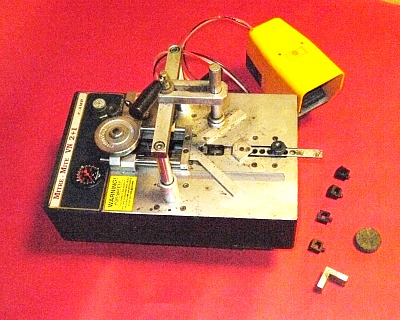 Item # UFE-1648 Mitre Mite VN2+1
This unit is in Good Condition.
Serial # 27385 Manufactured in 1998
Price $850
The following information is from the ITW AMP / Manufacturer's website:

The Mitre-Mite VN 2+1 is a bench top frame assembly machine and our most popular model with the Custom Framer. It is compact and well constructed, built for many years of trouble free operation. With this machine, the Framer sets the front and back stops for V-Nail insertion. The frame is then moved across the nail head and V-Nails can be driven or stacked anywhere along the frame joint. Other features include a pneumatic load / feed system to eliminate jams, "soft clamp" pneumatics for damage free joints, and a "quick change" hold down to fit most profiles.

Specifications:
Machine Size: Width/12" , Length/19" , Height/14" , Weight/75lbs
Power Source: Pneumatic
Framing Capability: Frame Width 3/8" to 5" / Frame Height 1/4" to 5 1/4"
V-Nail sizes: 3,5,7,10,12,15 mm
This item can be picked up in Georgia or shipped for an additional fee by UPS. Shipping is not the $6.50 default on the order page.
Troy-GA-5-25-12/628
Return to Frame Moulding Cutting & Joining Equipment Page #154
We Accept: Visa/MasterCard/Discover/Debit/Certified Check or Money Order
Produced By: A.I.M. Enterprises, Inc. phone: 330-405-9421
(c) Copyright 2012 All rights in all media reserved.
Mitre Mite VN2+1 V-nailer Underpinner, ITW Mitre Mite VN2+1 V-Nail V-Nailer Frame Assembly Machine, Discounted New ITW MItreMite VN 2+1 V-Nail V-Nailer Framing Equipment Underpinner Joiner for Sale, ITW Mitre Mite VN2+1 V-Nail V-Nailer Stand,Used Picture Framing Equipment for Sale, Photographer's Photo Framing Equipment, Pre-Owned Used Mitre Mite VN2+1 Frame Joiner to Assemble Frames for Frame Shops Art Galleries, Framing Tools, Used Parts Part, Buy Used Framing Frame Shop Equipment Store, Selling Sell Your Framing Equipment, Buy Used Framing Equipment, Discount Framing Equipment, AIM Enterprises Inc Dealer Distributor Supplier of Used Framing Equipment