Used Framing Equipment: Mat Cutters, Moulding Cutting & Joining Equipment, Mounting Presses, Hand Tools
We buy & sell pre-owned picture framing equipment. We also help you to sell your used framing equipment, and help you save on equipment that you may need. All Items are sold "As Is". Although we strive to obtain the best information from the seller, AIM is not responsible for inaccuracies provided to us by seller. It is the responsibility of the buyer to crosscheck information with seller or manufacturer regarding descriptions that appear in this catalog.
Do you have Questions? Feel free to our office at 330-405-9421, M-F, 10AM-5PM EST or Email us at info@skylinepictures.com
Section 2: Frame Moulding Cutting & Joining Equipment
Machine #1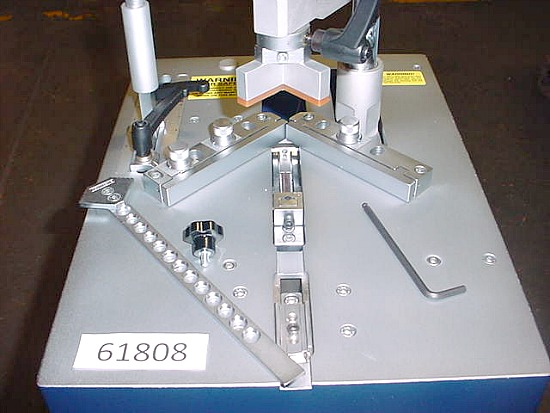 Machine #2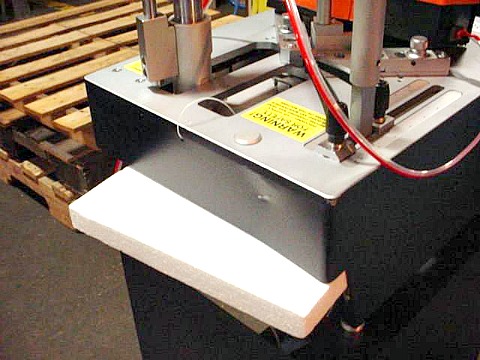 UFE-1478 ITW AMP VN42 Underpinner
ITW AMP VN42 V-Nail Frame Assembly Machine
These units are Brand New Machines
There are two brand new machines available. They have been refurbished by the manufacturer. Each machine comes with a 2 year warranty from the manufacturer; 1 year parts.
These may have some cosmetic irregularities or scratches. Call for more information
***Reduced***Price $ 4,575
Following info / specifications are from manufacturer's or Distributors website:
The Mitre-Mite VN 42 has been designed for ease of operation and is particularly well suited for assembling larger frames. This machine comes with a height adjustable base and has a convenient tilt / roll feature which allows for easy movement around the shop. it can be operated from the front or back and has a dual stage foot pedal which allows the Framer to see if the corner is properly aligned before nailing. After the Framer sets the stops, the hand lever is then used to position the nail head for driving or stacking V-Nails anywhere along the frame joint.
Specifications:
MACHINE SIZE:

Width 14"

Length 19"

Height 33" to 43"

Weight 150 lbs.

POWER SOURCE: Pneumatic

FRAMING CAPABILITY:

Frame Width 3/8" to 5 1/2"

Frame Height 1/4" to 41/2"

Tilt/Angle fence for custom fit

4 , 6, or 8 sided frames.

V-NAIL SIZES: 3, 5, 7, 10, 12, 15 mm

OPTIONAL ACCESSORIES:

Wood support table

Metal extension wings
This item can be picked up in Illinois or shipped for an additional fee by a freight company. Shipping is not the $6.50 default on the order page.
ITW-IL-11-8-11 $4,675 / 2-8-12 $4,595 / 8-17-12 $4,575 s
Return to Frame Moulding Cutting & Joining Equipment page #181
We Accept: Visa/MasterCard/Discover/Debit/Certified Check or Money Order
Produced By: A.I.M. Enterprises, Inc. phone: 330-405-9421
(c) Copyright 2012 All rights in all media reserved.
Refurbished ITW AMP VN42 Pneumatic V-Nailer Under-pinner, Craigslist Miter Mite VN42 Framing Equipment for Photographers, Ebay Used Photography equipment, Photographic Studio Framing Equipment Machines, Ebay Used ITW Mitre Mite MitreMite VN42 Pneumatic V-Nailer Joiner Under-pinner for Sale, Craigslist Used Miter Mite Miter-Mite Mitre Mite VN42 VN4L VN2+1 Picture Framing Equipment for Sale, Pre-Owned Framing Equipment for Frame Shops Art Galleries, Framing Tools, Buy Used Framing Frame Shop Equipment Store, Selling Sell Your Framing Equipment, Buy Used Framing Equipment, Discount Framing Equipment, AIM Enterprises Inc Dealer Distributor Supplier of Used Framing Equipment Framing Tools, Buy Used Framing Frame Shop Equipment Store, Selling Sell Your Framing Equipment, Buy Used Framing Equipment, Discount Framing Equipment, AIM Enterprises Inc Dealer Distributor Supplier of Used Framing Equipment Phone 216-663-7400