Used Framing Equipment: Mat Cutters, Moulding Cutting & Joining Equipment, Mounting Presses, Hand Tools
We buy & sell pre-owned picture framing equipment. We also help you to sell your used framing equipment, and help you save on equipment that you may need. All Items are sold "As Is". Although we strives get obtain the best information from the seller, AIM is not responsible from inaccuracies provided to us by seller. It is the responsibility of the buyer to crosscheck information with seller or manufacturer regarding descriptions that appear in this catalog.
Do you have Questions? Feel free to our office at 330-405-9421, M-F, 10AM-5PM EST or Email us at info@skylinepictures.com
Section 2: Frame Moulding Cutting & Joining Equipment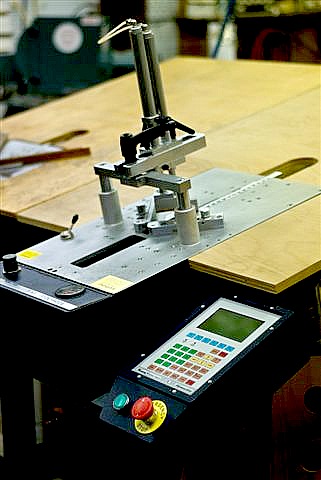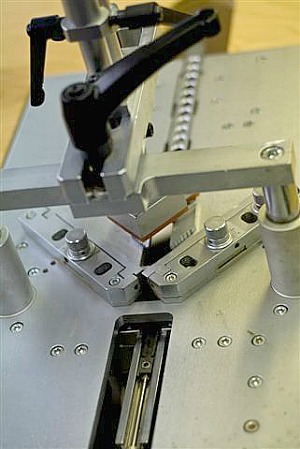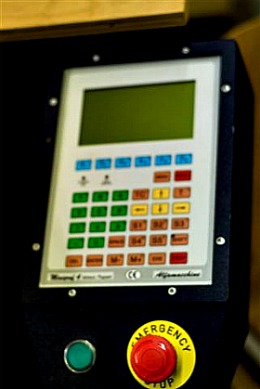 UFE-1438 Mitre-Mite VN4+MP Underpinner
ITW AMP VN4+MP Programmable Electronic Production V-Nail Frame Assembly Machine.
This machine is in Very Good Condition. Light Usage, total V-Nail strikes 27,443.
We are currently waiting on pictures on this machine. The real one looks very similar to the one pictured above.
Price $6,495
Manufacturer's Information:
For high volume production pre-programmed sequences of operation,
Holds approx 2000 fra

me profiles in memory

with 3000 frame memory, memory expansion optional, bar code option, one touch recall, operator programmable, joins all woods, MDF, and plastic, designed for ease of use, particularly well suited for the custom frame shop, compact and well constructed for years of trouble free operation, quiet and powerful, comes on compact base which can be set on or notched into work station and has 3 operating positions, two stage foot pedal allows user to see quality of join before nailing, nail head remains stationary while moulding moves, stacks up to 10 position per corner, has a pneumatic load/feed system to eliminate jams, drives at 110 psi, adjusts to join almost any profile from 1/4 inch to 5 1/4 inches high, and from to 3/8 inch to 5 inches wide, air and electronically operated, basic machine is 29 inches wide x 25 inches long x 55 inches high, FEATURES: recalls at the touch of a button, optional bar code reader, computer electronic controls with manual back-up. fast and easy nailing position set up, double hydraulic hold down clamps available, multi angle adjustable back fence with tilt adjustment for 4, 6 or 8 sided frames, accommodates 5 nail height sizes, built in reserve air tanks for consistent operating pressure, comes with large assortment of special hold down clamps for almost any profile.
This item can be picked up in South Carolina or shipped for an additional fee by freight company. Shipping is not the $6.50 default on the order page.
David-SC-8-30-11
Return to Frame Moulding Cutting & Joining Equipment Main Page #97
We Accept: Visa/MasterCard/Discover/Debit/Certified Check or Money Order
Produced By: A.I.M. Enterprises, Inc. phone: 330-405-9421
(c) Copyright 2011 All rights in all media reserved.
ITW AMP VN4+MP Underpinner, Ebay Craigslist ITW AMP VN4L+MP Memory Programmable VN4-E3L V-Nail V-Nailer Frame Assembly Machine, Alphamachine Minigraf 4, Discounted New ITW AMP Mitre Mite VN 4L+MP 4+MP V-Nail Programmable Production V-Nailer Framing Equipment Underpinner Joiner for Sale, Ebay Craigslist ITW Mitre Mite VN4L V-Nail V-Nailer Stand, Used Woodworking, Doorframes, Picture Framing Equipment for Sale, Photographer's Photo Framing Equipment, Pre-Owned Used Mitre Mite VN2+1 Frame Joiner to Assemble Frames for Frame Shops Art Galleries, Framing Tools, Used Parts Part, Buy Used Framing Frame Shop Equipment Store, Selling Sell Your Framing Equipment, Buy Used Framing Equipment, Discount Framing Equipment, AIM Enterprises Inc Dealer Distributor Supplier of Used Framing Equipment