Used Framing Equipment: Mat Cutters, Moulding Cutting & Joining Equipment, Mounting Presses, Hand Tools
We buy & sell pre-owned picture framing equipment. We also help you to sell your used framing equipment, and help you save on equipment that you may need. All Items are sold "As Is". Although we strives get obtain the best information from the seller, AIM is not responsible from inaccuracies provided to us by seller. It is the responsibility of the buyer to crosscheck information with seller or manufacturer regarding descriptions that appear in this catalog.
Do you have Questions? Feel free to our office at 330-405-9421, M-F, 10AM-5PM EST or Email us at info@skylinepictures.com
Section 2: Frame Moulding Cutting & Joining Equipment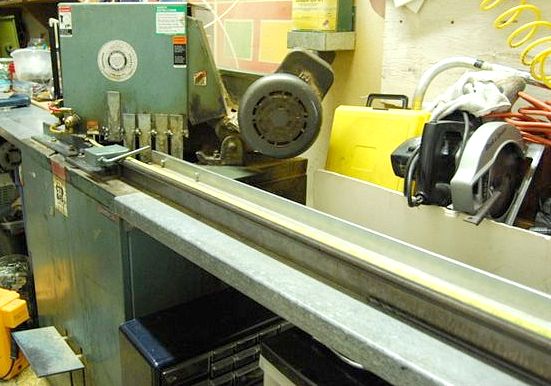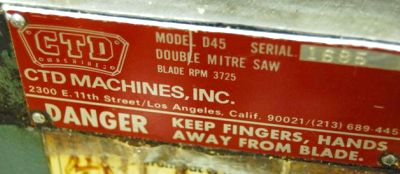 UFE-1286 CTD D45 Double Miter Saw
This machine is in Good Working Condition. This machine has been well maintained.
***Reduced***Price: $1,475
This item can be picked up in Washington or shipped for an additional fee by common carrier. Shipping is not the $6.50 default found in the shopping cart.
Kyoshi-WA-3-16-11 $1,500 / 6-29-12 $1,475 s
Information below is from manufacturer's website on the newest model. Call tech support for exact specifications that may differ :
Manufacturer's Website: http://ctdsaw.com - Instruction manual can also be found here:
CTD D45 Fixed 45 Degree Frame Saw
The D45 is popular world wide because of its unique features, low cost and precision. Engineered for higher production, this double mitre saw makes two 45 degrees mitres at one time, saving time and materials. D45's are used by thousands in the decorative arts trade throughout world.
Designed to cut Aluminum, Wood, plastics, composites, aluminum extrusions, plastic extrusions, non-ferrous metals.
Blade Capacity: 10" OD (254mm) ,12'' OD, 14'' OD
Spindle & Pivot: Both mounted on pre-loaded and sealed ball bearings.
Arbor: 5/8 (16mm) with 2-1/4 (57mm) saw collars.
Iron Castings: Saw arm, pivot brackets and table are precision machined and ground with milled slots in table to guide pivot brackets and fences.
Motors & Voltages: 1-1/2 H.P., 3450 RPM with Dual Magnetic Starter.
Table Height: 34-1/2 (88cm) from floor.
Floor Stand: Close coupled heavy gage steel stand completely enclosed with 6 dust outlet. 1200 CFM required.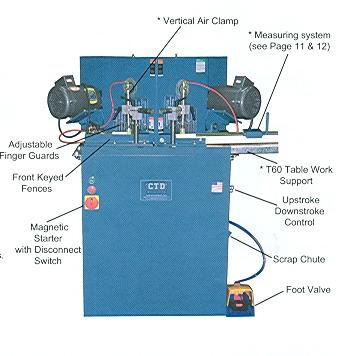 Return to Frame Moulding Cutting & Joining Equipment Main Page #310
We Accept: Visa/MasterCard/Discover/Debit/Certified Check or Money Order
Produced By: A.I.M. Enterprises, Inc. phone: 330-405-9421
(c) Copyright 2014 All rights in all media reserved.
Used CTD D45 D45 Double Miter Saw, Used CTD D45AX Double Miter Saw 12" Pneumatic Air Operated, Craigslist CTD Pistorius Manual Foot Operated Mitering Saw For Framers, Ebay Used CTD 45FX AX Pneumatic Manual Double Miter Mitre Saw For Sale, Craigslist Ebay Used Woodworking Crafters Equipment Saws Mitering Double Miter Saws Brevetti CTD Pistorius Picture Framing Equipment for Sale, Instruction Video Manual, Pre-Owned Pistorius Underpinner Framing Equipment for Frame Shops Art Galleries, Framing Tools, Buy Used Framing Frame Shop Equipment Store, Selling Sell Your Framing Equipment, Buy Used Framing Equipment, Discount Framing Equipment, AIM Enterprises Inc Dealer Distributor Supplier of Used Framing Equipment