Used Framing Equipment: Mat Cutters, Moulding Cutting & Joining Equipment, Mounting Presses, Hand Tools
We buy & sell pre-owned picture framing equipment. We also help you to sell your used framing equipment, and help you save on equipment that you may need. All Items are sold "As Is". Although we strives get obtain the best information from the seller, AIM is not responsible from inaccuracies provided to us by seller. It is the responsibility of the buyer to crosscheck information with seller or manufacturer regarding descriptions that appear in this catalog.
Do you have Questions? Feel free to our office at 330-405-9421, M-F, 10AM-5PM EST or Email us at info@skylinepictures.com
Section 2: Frame Moulding Cutting & Joining Equipment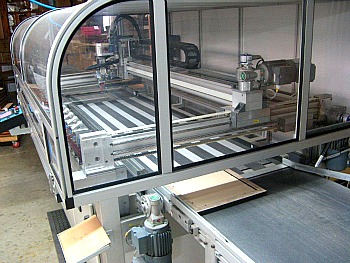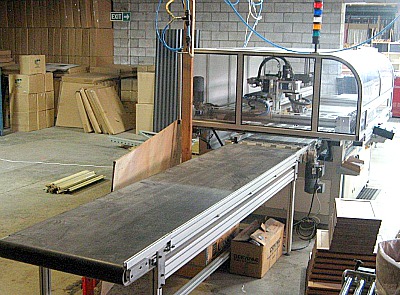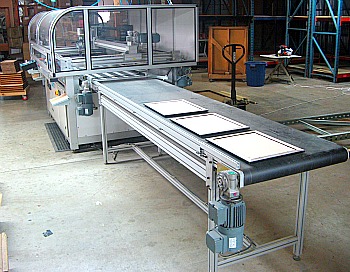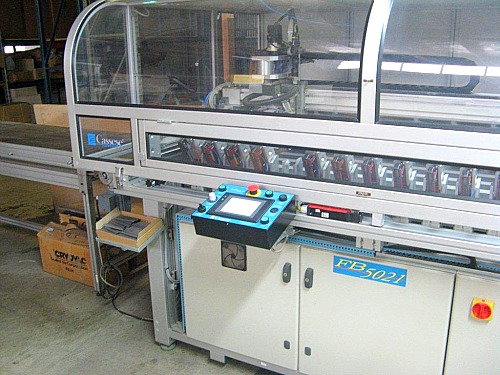 UFE-1260 Cassese FB5021 robotic tab machine
This machine / system is in Very Good Working Condition.
Power: 50HZ / 400volts
"Open To Offers"
***Reduced***Price: $18,995
This item can be picked up in New Zealand, or shipped for an additional fee by a Crate & Freight company. Shipping is not the $6.50 default found in the shopping cart.
John-NZ-3-1-11 $29,995 / 2-8-12 $28,995 / 5-24-12 $19,995 / 7-10-12 $18,995
From Manufacturer's / Distributor's Website (Check with manufacturer to see if there are any differences between above unit and what appears below):
From the Manufacturer's Site:
Newest Generation: Cassese FB7000 Automatic Fastening machine has been especially
designed for the customs & contract framers.
AUTOMATIC BACK FIXING MACHINE
The FB7000 is designed to automatically secure backings and standbacks into frames with 15mm & 25mm and U-Shape staples.

Velocity and flexibility for small and big series :
The machines takes by itself the internal and external dimensions of the frame within a few seconds, without human intervention. Change over is from 30 seconds up to 45 seconds (for the biggest sizes). This velocity and flexibility makes it ideal and extremely productive even for small batches from 20 frames.
Website: http://www.cassese.com/eng/cassese_back_fixing_machine.html#stop01
Return to Frame Moulding Cutting & Joining Equipment Page #167
We Accept: Visa/MasterCard/Discover/Debit/Certified Check or Money Order
Produced By: A.I.M. Enterprises, Inc. phone: 330-405-9421
(c) Copyright 2012 All rights in all media reserved.
Cassese FB5021 FB7000 Automatic Fastening Back Fixing Tab Machine, Flexi-Robot Robotic Picture Frame Production Machine, Cassese Casesse FB5021 FB7000 Automatic Fastening Back Fixing Tab Machine, Designed to Automatcally Secure Backing Standbacks during Production Line Framing, Cassese Operating Manual Support Material Customer Techical Support, Craigslist Ebay Framing Equipment for Frame Shops Art Galleries, Framing Tools, Buy Used Framing Frame Shop Equipment Store, Selling Sell Your Framing Equipment, Buy Used Framing Equipment, Discount Framing Equipment, AIM Enterprises Inc Dealer Distributor Supplier of Used Framing Equipment