Used Framing Equipment: Mat Cutters, Moulding Cutting & Joining Equipment, Mounting Presses, Hand Tools
We buy & sell pre-owned picture framing equipment. We also help you to sell your used framing equipment, and help you save on equipment that you may need. All Items are sold "As Is". Although we strives get obtain the best information from the seller, AIM is not responsible from inaccuracies provided to us by seller. It is the responsibility of the buyer to crosscheck information with seller or manufacturer regarding descriptions that appear in this catalog.
Do you have Questions? Feel free to our office at 330-405-9421, M-F, 10AM-5PM EST or Email us at info@skylinepictures.com
Section 2: Frame Moulding Cutting & Joining Equipment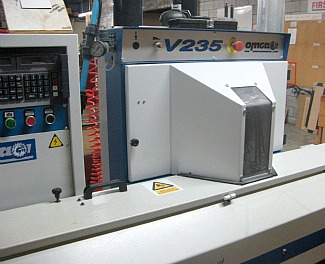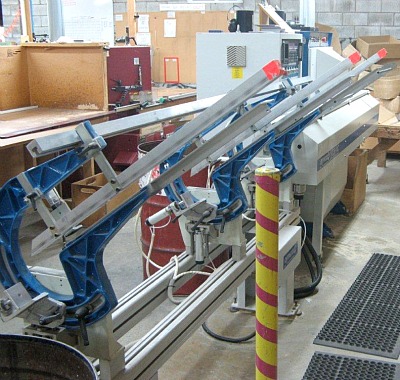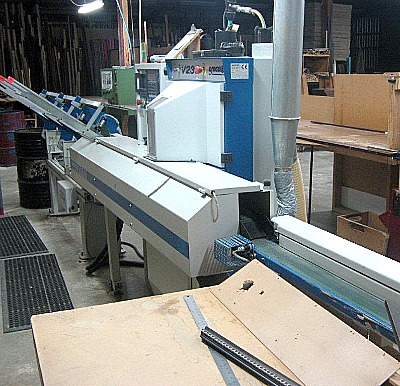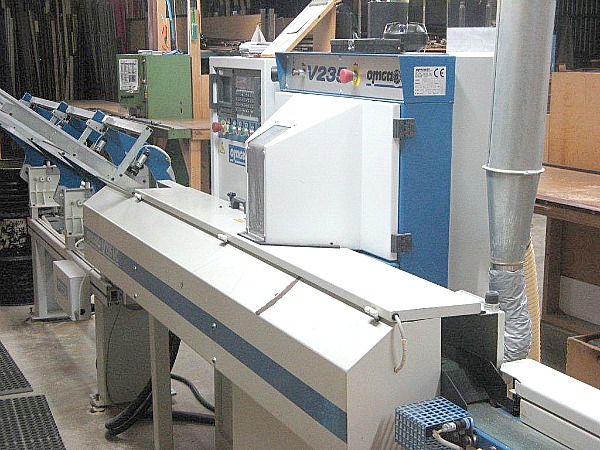 UFE-1259 OMGA V235 NC V Cutting Machine System
Double Miter Saw Model V235 NC System
This machine / system is in Very Good Working Condition.
Power: 50HZ / 400volts
"Open To Offers"
***Reduced***Price: $14,995
This item can be picked up in New Zealand, or shipped for an additional fee by a Crate & Freight company. Shipping is not the $6.50 default found in the shopping cart.
John-NZ-3-1-11 $29,995 / 2-8-12 $28,995 / 5-24-12 $14,995 / 7-10-12 $13,995
From Manufacturer's / Distributor's Website (Check with manufacturer to see if there are any differences between above unit and what appears below):
Omga V235 NC: http://omgainc.com/productfamily_detail.php?cid=4&sub_id=16&pid=163
The V235 NC is a high speed precision mitre saw for the picture frame, joinery and furniture industries. It is fitted with an on board computer enabling it to operate in various cutting modes. The machine is able to cut from random lengths of material and can also optimize the cutting sequence in its list mode.

The computer is fitted with an 8 inch visual display unit which allows the data that the operator requires to be constantly displayed. Programs can be written and edited on the machine or can be downloaded from an office PC via a 3.5 floppy disc. It is possible to interrupt the cutting process at any time and have a different program carried out whilst all the data relating to the first program remains stored. Error messages are displayed on screen reducing downtime.

The machine is fitted with a choice of either a 3000mm capacity vertical hopper feed system or a 3000mm horizontal feed system, an outfeed conveyor belt with a pneumatic sequence kicker is also fitted as standard in order not to damage the cut components and to separate the tail end waste pieces.

Specification
Twin blade cutting station with 3 hp motor
2 x 350mm diameter TCT sawblades
85mm cutting width capacity
Pneumatic blade stroke with speed adjustment
Vertical or Horizontal feed magazine 3000mm capacity
Outfeed conveyor with photocell and kicker
V 235 NC
The V 235 NC has been designed on the same concepts of the V 2013 NC by streamlining the project and making it even more cost effective. The system is well suited for elevated production of picture and photo frames as well as any other component which is assembled by way of mitering the ends. Sophisticated, but simple and practical, the system is fitted with a guidance computer which makes the machine more productive and flexible, for an improved quality of the finished product. The machine counts with a hopper feeder (available in both Horizontal and Vertical versions) which allows it to function completely unattended. The following are some of the key features of the V 2013 NC Fully Automated Mitering System: Optimized Cutting By inputting the data relating to the length of the moulding along with the cutting list, the machine is able to select the best sequence automatically, maximizing the material's yield. Higher Production The high speed feed carriage allows large scale production in any circumstance. The zero setup time for changes in the cutting list, is another important factor in the high performance of this unique system. Depending on several variables the output of the system ranges from 1000 to 1500 pieces per hour. Data Storage The computer has down loading capability through the 3 1/2" floppy disk or direct cable connection via RS 232 port. It is possible to interrupt the cutting process at any time and have a different program carried out, while all the data relating to the first program including the number of pieces still to be executed remain stored. Easy User Interface The onboard computer is equipped with an 8" monitor which allows all the messages that the operator requires, to be fully and constantly displayed in the desired language. A step by step full graphic display makes it easy for the operator to select the required operation. The on the screen diagnosis , reduces needless down time due to electric or pneumatic failure. Flexibility The two 14" saw blades make it possible to attain a considerable cutting capacity which can also be extended with optional 370 mm diameter blades.
Return to Frame Moulding Cutting & Joining Equipment Page #167
We Accept: Visa/MasterCard/Discover/Debit/Certified Check or Money Order
Produced By: A.I.M. Enterprises, Inc. phone: 330-405-9421
(c) Copyright 2012 All rights in all media reserved.
OMGA Double Miter Saw Model V235 NC, Omga V 235 NC Picture Photo Frames Production Machinery V Cutting Machine, Omga Operating Manual Support Material Customer Techical Support, CTD D45AX D20R Double Miter Saw, Used Pistorius Double Miter Saw 12" Pneumatic Air Operated, Craigslist CTD Pistorius Manual Foot Operated Mitering Saw For Framers, Ebay Used CTD 45FX AX Pneumatic Manual Double Miter Mitre Saw For Sale, Craigslist Ebay Used Mitering Double Miter Saws Brevetti CTD Pistorius Picture Framing Equipment for Sale, Instruction Video Manual, Pre-Owned Pistorius Underpinner Framing Equipment for Frame Shops Art Galleries, Framing Tools, Buy Used Framing Frame Shop Equipment Store, Selling Sell Your Framing Equipment, Buy Used Framing Equipment, Discount Framing Equipment, AIM Enterprises Inc Dealer Distributor Supplier of Used Framing Equipment