Used Framing Equipment: Mat Cutters, Moulding Cutting & Joining Equipment, Mounting Presses, Hand Tools
We buy & sell pre-owned picture framing equipment. We also help you to sell your used framing equipment, and help you save on equipment that you may need. All Items are sold "As Is". Although we strives get obtain the best information from the seller, AIM is not responsible from inaccuracies provided to us by seller. It is the responsibility of the buyer to crosscheck information with seller or manufacturer regarding descriptions that appear in this catalog.
Do you have Questions? Feel free to our office at 330-405-9421, M-F, 10AM-5PM EST or Email us at info@skylinepictures.com
Section 2: Frame Moulding Cutting & Joining Equipment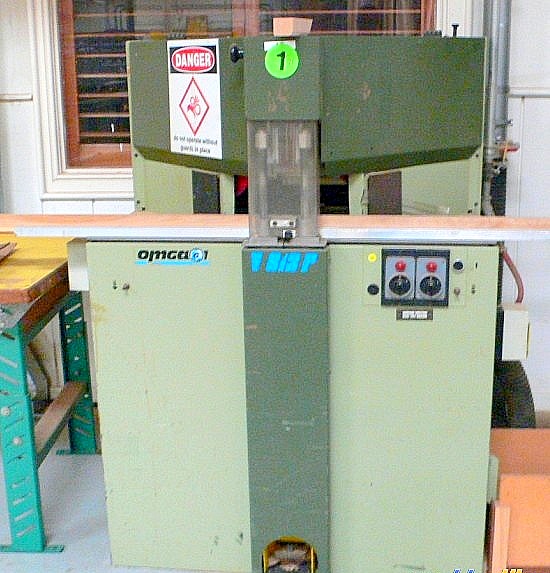 UFE-1245 OMGA Double Miter Saw Model 813P
This machine is in Good Working Condition.
Description:
Double miter saw with (2) saw heads fixed at 45°

(2) 4 HP - 3,200 RPM motors

16" Diameter Saw Blaces

Max. cutting width 4-1/8", Max. cutting height 4"

Two-hand push-button switch.

(2) laterally-adjustable pneumatic vertical hold-down clamps.

Patented finger assembly that automatically conforms to the material profile eliminating all "front-to-back" adjustments.

2" x 3" rear-exiting central waste chute.

***Reduced*** Price: $ 5,250
This item can be picked up in Canada, or shipped for an additional fee by common carrier. Shipping is not the $6.50 default found in the shopping cart.
Justin-MK-2-17-11 $5,950 / 2-18-11 $5,495 / 1-25-12 $5,275 / 8-17-12 $5,270 / 6-11-14 $5,250/225 s
From Manufacturer's / Distributor's Website (Check with manufacturer to see if there are any differences between above unit and what appears below):
Manual: http://www.omgainc.com/support_info.php
Return to Frame Moulding Cutting & Joining Equipment Page #297
We Accept: Visa/MasterCard/Discover/Debit/Certified Check or Money Order
Produced By: A.I.M. Enterprises, Inc. phone: 330-405-9421
(c) Copyright 2015 All rights in all media reserved.
OMGA Double Miter Saw Model 913 813P, CTD D45AX D20R Double Miter Saw, Used Pistorius Double Miter Saw 12" Pneumatic Air Operated, Craigslist CTD Pistorius Manual Foot Operated Mitering Saw For Framers, Ebay Used CTD 45FX AX Pneumatic Manual Double Miter Mitre Saw For Sale, Craigslist Ebay Used Mitering Double Miter Saws Brevetti CTD Pistorius Picture Framing Equipment for Sale, Instruction Video Manual, Pre-Owned Pistorius Underpinner Framing Equipment for Frame Shops Art Galleries, Framing Tools, Buy Used Framing Frame Shop Equipment Store, Selling Sell Your Framing Equipment, Buy Used Framing Equipment, Discount Framing Equipment, AIM Enterprises Inc Dealer Distributor Supplier of Used Framing Equipment