Used Framing Equipment: Mat Cutters, Moulding Cutting & Joining Equipment, Mounting Presses, Hand Tools
We buy & Sell pre-owned picture framing equipment. We will help you sell your used framing equipment, and help you save on equipment that you may need.
Do you have Questions? Feel free to our office at 330-405-9421, M-F, 10AM-5PM EST or Email us at info@skylinepictures.com
Section 2: Frame Moulding Cutting & Joining Equipment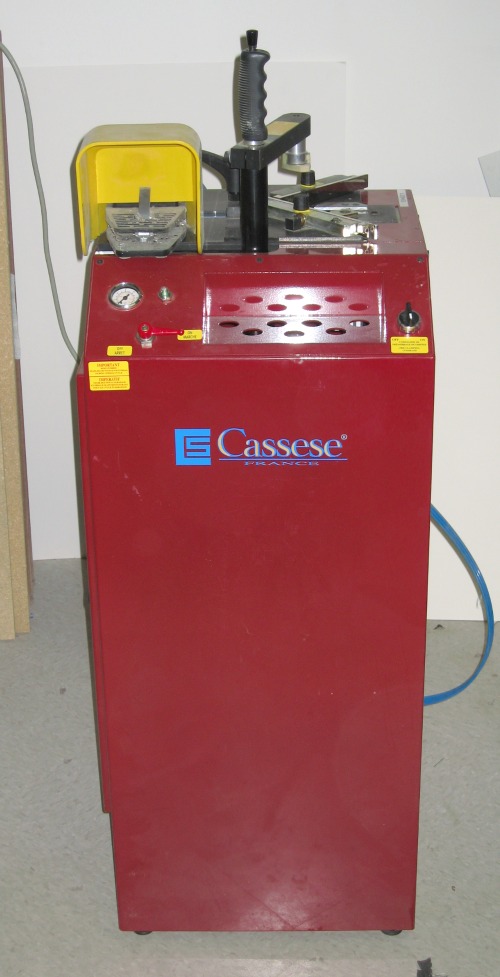 UFE-1210 Cassese Underpinner 299M Ultra V Nailer
Air-Operated / Pneumatic Under-pinner
This machine is in very good working condition..
Manufactured: About 2005
Price: $2,500
Weight: 171 lb Size: L -19 1/2" x W -18" x H -45"
See following site for demonstration video and more technical detail: http://www.activesalesco.com/ca299.htm
This item can be picked up in the New Jersey, or shipped for an additional fee by UPS. Shipping is not the $6.50 default on the order page.
John-NJ-1-18-11
Return to Frame Moulding Cutting & Joining Equipment Main Page #53
We Accept: Visa/MasterCard/Discover/Debit/Certified Check or Money Order
Produced By: A.I.M. Enterprises, Inc. phone: 330-405-9421
(c) Copyright 2011 All rights in all media reserved.
Used Cassese 299M Pneumatic Under-pinner V-Nailer, Craigslist Ebay Cassese 299M Ultra 299M XL2Pneumatic V-Nailer Under-pinner for Sale, Used For Sale Cassese Casesse 299M Picture Framing Equipment for Sale, Instruction Video on using Cassese 299M Underpinner, Pre-Owned Vacuum Press for Frame Shops Art Galleries, Framing Tools, Buy Used Framing Frame Shop Equipment Store, Selling Sell Your Framing Equipment, Buy Used Framing Equipment, Discount Framing Equipment, AIM Enterprises Inc Dealer Distributor Supplier of Used Framing Equipment