Used Framing Equipment: Mat Cutters, Moulding Cutting & Joining Equipment, Mounting Presses, Hand Tools
We buy & sell pre-owned picture framing equipment. We also help you to sell your used framing equipment, and help you save on equipment that you may need. All Items are sold "As Is". Although we strive to obtain the best information from the seller, AIM is not responsible for inaccuracies provided to us by seller. It is the responsibility of the buyer to crosscheck information with seller or manufacturer regarding descriptions that appear in this catalog.
Do you have Questions? Feel free to our office at 330-405-9421, M-F, 10AM-5PM EST or Email us at info@skylinepictures.com
Section 2: Frame Moulding Cutting & Joining Equipment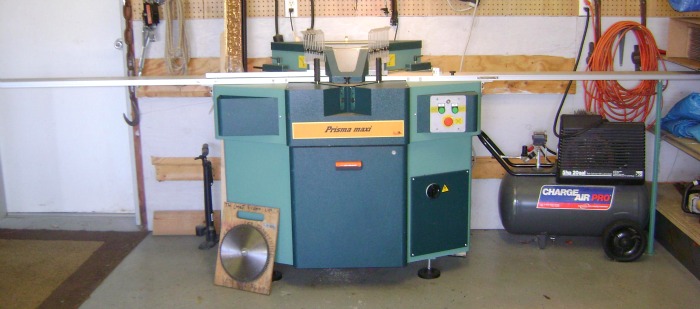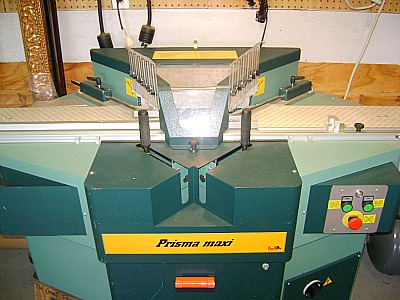 UFE-1199 Brevetti Prisma Maxi Double Mitre Saw
This saw is in Very Good Condition; comes with in-feed/out-feed arms, additional set of blades, tools, and owner's manuals.
List $13,725
Price: $5,395
This item can be picked up in Florida or shipped for an additional fee by a crate & freight company. Shipping is not the $6.50 default on the order page.
Mary-FL-12-17-10
From Manufacturer / Distributor Website:
Features:
Functional, attractive double blade miter saw well suited to low to medium volume custom frame shop whose market demands larger moldings for its frames
Cuts molding up to 7" wide by 3 1/4" high
Right and left moulding support arms with attached measure marks
Sliding stop to facilitate multiple accurate, equal length cuts
Mechanical clamps to hold molding secure during cutting stroke to help maintain smooth and accurate cuts in the moulding and reduce waste
Includes two high quality 275 mm, 80 tooth blades from Tenryu, manufacturer of industrial saw blades for 100 years. (100 tooth blades optional)
Specifications:
(2) 275mm (10-13/16") saw blades/ bore 32mm(1-1/4")/ 80 tooth (100 tooth available)
(2) 1.5HP 220V/60Hz single phase motors
(2) 52 1/2" molding support arms
(2) mechanical hold down clamps for moulding
78 3/4" measuring scale
Cuts molding up to 7" wide by 3 1/4" high
Right sliding stop for repeatable cuts
Blade Rotation speed - 3200 RPM
Dimensions - 48" (w) x 27 9/16" (d) x 44 1/16" (h)
Weight 363 lbs
Machine Demo: http://www.youtube.com/watch?v=mWG4TTkWJhQ&feature=related
Product Manual : http://www.brevettimotta.com/public/images/stories/prodotti/pdf/prismamaxi.pdf
Return to Frame Moulding Cutting & Joining Equipment page #52
We Accept: Visa/MasterCard/Discover/Debit/Certified Check or Money Order
Produced By: A.I.M. Enterprises, Inc. phone: 330-405-9421
(c) Copyright 2013 All rights in all media reserved.
Used Brevetti Prisma Maxi Double Miter Saw, Used Brevetti Prisma Maxi CE Double Miter Saw for Sale, Brevetti Saw Manuals Manual, Brevetti Saw Demonstration Video Demo Videos Pictures Photos, Used Picture Framing Equipment for Sale, Brevetti Prisma CE Maxi, Pre-Owned Used Brevetti Breveti Maxi Frame Mitre Saw to Cut Moulding Frames for Frame Shops Art Galleries, Framing Tools, Used Parts Part, Buy Used Framing Frame Shop Equipment Store, Selling Sell Your Framing Equipment, Buy Used Framing Equipment, Discount Framing Equipment, AIM Enterprises Inc Dealer Distributor Supplier of Used Framing Equipment