Used Framing Equipment: Mat Cutters, Moulding Cutting & Joining Equipment, Mounting Presses, Hand Tools
We buy & sell pre-owned picture framing equipment. We also help you to sell your used framing equipment, and help you save on equipment that you may need. All Items are sold "As Is". Although we strives get obtain the best information from the seller, AIM is not responsible from inaccuracies provided to us by seller. It is the responsibility of the buyer to crosscheck information with seller or manufacturer regarding descriptions that appear in this catalog.
Do you have Questions? Feel free to our office at 330-405-9421, M-F, 10AM-5PM EST or Email us at info@skylinepictures.com
Section 2: Frame Moulding Cutting & Joining Equipment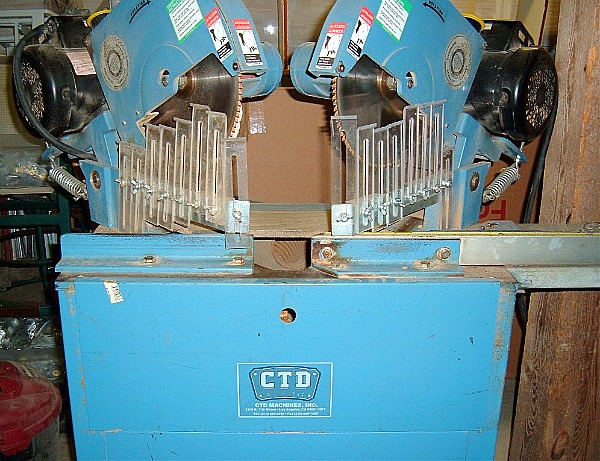 UFE-1186 CTD D20R Double Miter Saw
This machine is in good condition.
Comes with 60" Extension Arm
Serial # 791R / 12" Blades
List Price $4,575
Price: $2,500
This item can be picked up in Texas or shipped for an additional fee by common carrier. Shipping is not the $6.50 default found in the shopping cart.
Lisa-11-16-10
Information below is from manufacturer's website on the newest model. Call tech support for exact specifications that may differ :
Manufacturer's Website: http://ctdsaw.com - Instruction manual can also be found here:
CTD MODEL D20R A revolutionary idea--right and left saw heads, individually operated on a common base. Gives you a fast, accurate double mitre cut-off that beats anything in it's price class in the world.
STANDARD FEATURES & SPECIFICATIONS:
Blade Capacity: 12" OD (305mm); saw blades not included.

Spindle & Pivot: Both mounted on pre-loaded and sealed bearings; uses our time tested 200R Series saw head; saw arm, pivot brackets and table are precision machined and ground steel plate and iron.

Arbor: 1" (25.4mm) with 2-1/2" (64mm) saw collars; 3700 RPM of spindle.
Motors & Voltages: 1 H.P. single phase, 115 Volt, Totally Enclosed Fan Cooled Motors with toggle switch and plug; each motor draws 15 amps at 115 Volt; completely enclosed 2-belt drive; 230 Volt with Dual Magnetic Starter available.

Floor Stand: Close coupled heavy gage steel floor stand with removable dust and scrap drawer; Rabbet Measuring System included.

Actuation: Manual hand operation of independent saw heads.

Size & Weight: 46" (117cm) Wide x 22" (56cm) front to back x 56" (142cm) High"; Weight 300 lbs. (136 kg).

Production Rate: Up to five frames per minute; actual production rates vary with the type and width of material to be cut.

Dust Collection & Scrap: The D20R is provided with a dust and scrap drawer; most of the dust and chips will fall into this drawer; empty as needed; 4" (102mm) dust outlet available; 600 CFM required.
Cutting Capacity: 3" (76.2mm) High x 5-3/4" (146mm) Wide on non-ferrous metals, wood, and plastic sections.
Return to Frame Moulding Cutting & Joining Equipment Page #49
We Accept: Visa/MasterCard/Discover/Debit/Certified Check or Money Order
Produced By: A.I.M. Enterprises, Inc. phone: 330-405-9421
(c) Copyright 2011 All rights in all media reserved.
Used CTD D20R Double Miter Saw, Used CTD D20 Double Miter Saw 12" Pneumatic Air Operated, Craigslist CTD Pistorius Manual Foot Operated Mitering Saw For Framers, Ebay Used CTD 45FX AX Pneumatic Manual Double Miter Mitre Saw For Sale, Craigslist Ebay Used Mitering Double Miter Saws Brevetti CTD Pistorius Picture Framing Equipment for Sale, Instruction Video Manual, Pre-Owned Pistorius Underpinner Framing Equipment for Frame Shops Art Galleries, Framing Tools, Buy Used Framing Frame Shop Equipment Store, Selling Sell Your Framing Equipment, Buy Used Framing Equipment, Discount Framing Equipment, AIM Enterprises Inc Dealer Distributor Supplier of Used Framing Equipment