Used Framing Equipment: Mat Cutters, Moulding Cutting & Joining Equipment, Mounting Presses, Hand Tools
We buy & sell pre-owned picture framing equipment. We also help you to sell your used framing equipment, and help you save on equipment that you may need. All Items are sold "As Is". Although we strives get obtain the best information from the seller, AIM is not responsible from inaccuracies provided to us by seller. It is the responsibility of the buyer to crosscheck information with seller or manufacturer regarding descriptions that appear in this catalog.
Do you have Questions? Feel free to our office at 330-405-9421, M-F, 10AM-5PM EST or Email us at info@skylinepictures.com
Section 2: Frame Moulding Cutting & Joining Equipment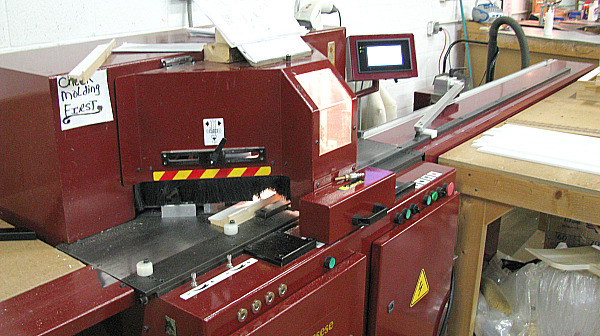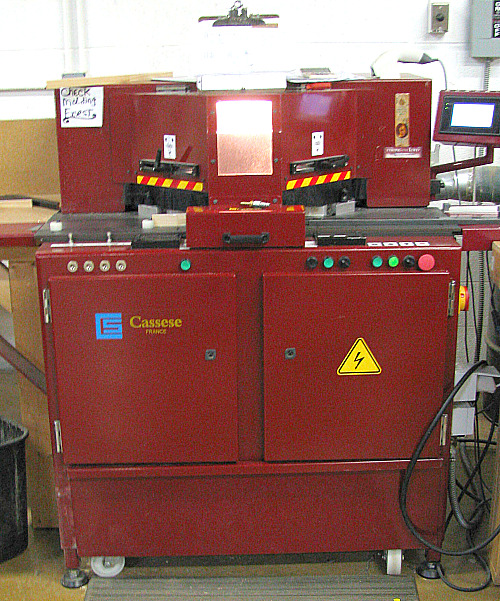 UFE-1146 Cassese CS939 Double Miter Saw + Auto Quickstop + Bar Code System
This saw is in Very Good Condition; comes with in-feed/out-feed arms & extra blades
This units is about 6 years old
Item # UFE-1146 $ 8500
From Manufacturer's / Distributor's Website:
Cassese CS939 Double Miter Saw
Can cut up to 5" wide mouldings
Fast: up to 350 to 450 chops/hour can be cut
Machine Demo: http://www.youtube.com/watch?v=sxusH0hhg0c
Technical Detail: http://www.activesalesco.com/ca939saws.htm
QuickStop Features
User-friendly touch screen keypad
Numeric stop (goes to requested size automatically
Stores up to 800 articles that are either profiles or finished products (i.e., a specific frame with its profile, specs & dimension of frame)
Memorizes up to 80 standard frame sizes
Can work at any time with inside or outside dimensions or can be "locked" to use inside dimensions only to avoid operator mistakes
Easily change from long to short frame dimension
Re-settable counter counts cuts
Simple user-friendly touch screen keypad can communicate in several languages
This item can be picked up in Illinois or shipped for an additional fee by a freight company. Shipping is not the $6.50 default on the order page.
NICK-IL-9-2-10
Return to Frame Moulding Cutting & Joining Equipment page #43
We Accept: Visa/MasterCard/Discover/Debit/Certified Check or Money Order
Produced By: A.I.M. Enterprises, Inc. phone: 330-405-9421
(c) Copyright 2011 All rights in all media reserved.
Used Cassese CS939 CS999 Double Miter Saw with Auto Quickstop and Barcode System, Used Cassese CS 939 999 Double Miter Saw with Auto Quick stop Barcode System for Sale, Craigslist Ebay Cassese Production Woodworking Art Framing Saw Manuals Manual, Cassese Double Miter Saw Saw Demonstration Video Demo Videos Pictures Photos, Used Picture Framing Equipment for Sale, Pre-Owned Used Cassese Frame Mitre Saw to Cut Moulding Frames for Frame Shops Art Galleries, Framing Tools, Used Parts Part, Buy Used Framing Frame Shop Equipment Store, Selling Sell Your Framing Equipment, Buy Used Framing Equipment, Discount Framing Equipment, AIM Enterprises Inc Dealer Distributor Supplier of Used Framing Equipment