Used Framing Equipment: Mat Cutters, Moulding Cutting & Joining Equipment, Mounting Presses, Hand Tools
We buy & Sell pre-owned picture framing equipment. We will help you sell your used framing equipment, and help you save on equipment that you may need.
Do you have Questions? Feel free to our office at 330-405-9421, M-F, 10AM-5PM EST or Email us at info@skylinepictures.com
Section 2: Frame Moulding Cutting & Joining Equipment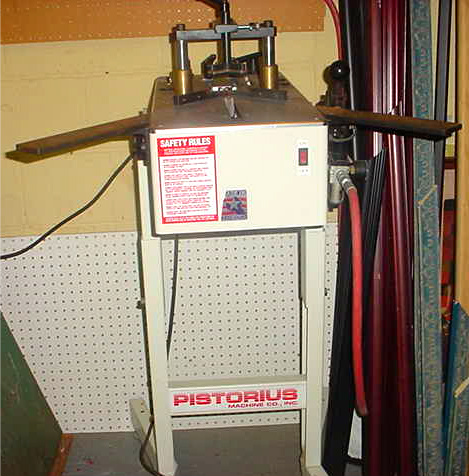 UFE-1075 Pistorius VNA
Pistorius VNA-2 V-Nail Frame Assembly Machine
It is in Good Working Condition.
This machine is still available from the manufacturer
Item # UFE-1075 $1,495
This item can be picked up in the Mississippi, or shipped for an additional fee by common carrier. Shipping is not the $6.50 default found in the shopping cart.
BARBARA-MS-5-24-10
The following information is from the Pistorius / Manufacturer's website (Check with Pistorius to see what differences there are between the above item and the newest generation machine) :


V-Nail®: GENERATION 2
VNA-2 V-Nail® Frame Assembly Machine


Generation 2 Vee nail™ brand frame assembly machines are designed, manufactured, tested and packed for a long trouble-free life with up-to-the-minute state of the art technology. Designed using computer assisted design systems and manufactured on CNC machining centers, these new World Class designs are truly remarkable in their simplicity, reliability and speed. Although no special skills are required to operate these machines, operators must be provided with operational and safety training prior to use.
The Vee nail assembly system is specifically designed for high-quality joining of unfinished or pre-finished materials. Single or multiple nails are inserted into the bottom side of the material, where it is not seen in most applications. Bottom joining eliminates marring the exposed finished surface and saves the additional labor expense of filling nail holes. With over 30 years of experience, Pistorius joiners offer the ability to produce "Professional Quality" products quickly and easily.


Features: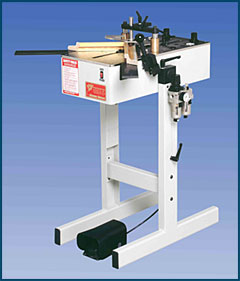 Return to Frame Moulding Cutting & Joining Equipment page #31
We Accept: Visa/MasterCard/Discover/Debit/Certified Check or Money Order
Produced By: A.I.M. Enterprises, Inc. phone: 330-405-9421
(c) Copyright 2011 All rights in all media reserved.
Used Pistorius VNA VNA VNA-2 VN2-A V-Nail V-Nailer Frame Assembly Machine, Used Pistorius VNA-2 V-Nail V-Nailer Framing Equipment Underpinner Joiner for Sale, Used Picture Framing Equipment for Sale, Pre-Owned Used Pistorius Pistorus Frame Joiner to Assemble Frames for Frame Shops Art Galleries, Framing Tools, Used Parts Part, Buy Used Framing Frame Shop Equipment Store, Selling Sell Your Framing Equipment, Buy Used Framing Equipment, Discount Framing Equipment, AIM Enterprises Inc Dealer Distributor Supplier of Used Framing Equipment