FO-5 NFL Evolution
NFL Evolution is the most historic NFL artwork ever created. This art print, created from an original painting, traces the history of the NFL through the order of team entry. Every team in the NFL has given its sanction to this artwork. Each team is represented in its original uniform. The artwork also displays a helmet from every team and a football from every decade. Each print comes with a "legend" detailing the history of the league.
NFL Officially Licensed Sports Artwork
Open Edition Sports Print
Size: 14 x 42.5"
8.5x11" Glossy Legend Included: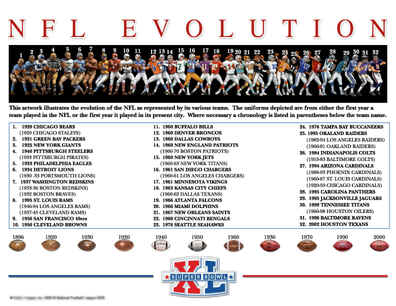 NFL Evolution Football Teams Poster Art, Past Historical Professional Football Uniform Designs Poster Poster Sports Art, NFC AFC Licensed Logo art, Football Gear Art, Panoramic Football Wall Art Poster, NFL Sports Art Poster Prints Memorabilia Collectibles Team Uniforms Logos Sport Gifts