Used Framing Equipment: Mat Cutters, Moulding Cutting & Joining Equipment, Mounting Presses, Hand Tools, Print Bins, Racks, Rounder
We buy & Sell pre-owned picture framing equipment. We will help you sell your used framing equipment, and help you save on equipment that you may need.
Do you have Questions? Feel free to our office at 330-405-9421, M-F, 10AM-5PM EST or Email us at info@skylinepictures.com
Section 4: Frame Shop Racks, Print Bins, Rounders

UFE-411 Porta-Wrap II Shrink Wrap Sealer Machine
Used to Shrink Wrap / Used for Shrink Wrapping
32 Inches Wide
Units are 2 years old...it comes from a framing shop which is closed last year, and has been in storage ever since. It is in Excellent Condition ... It has a new heat wire kit that comes with unit, and some film.
Item # UFE-411 $225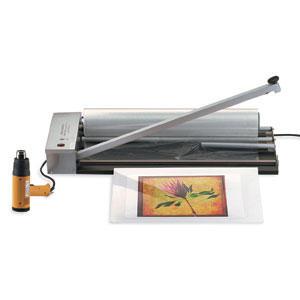 Above image and below info is from manufacturer's website / showing unit in operation
Porta Wrap II Shrink Packaging System, 32in Wide

Quick, easy to use, inexpensive protection for prints and matted artwork. This is a great machine to wrap and protect your valuable artwork.
The 32" Porta-Wrap II Shrink Wrap System protects artwork with pH neutral, center-folded shrink film. First, slip the artwork with its backing into the graphics-grade film. Then pull the sealer bar down on the film next to the edge of the artwork to cut and seal the film. Repeat the second step on the remaining open edge to form a sealed envelope protecting the artwork. Finally, use the hot air gun to apply hot air to the back, then the front, shrinking the film tight and smooth.
This item can be picked up in Cleveland, Ohio Area or shipped for an additional fee by UPS. Shipping is not the $6.50 default on the order page.
AIM-CLEVELAND- 6-27-2009
Return to Frame Shop Rack Prints Bins Page 2
We Accept: Visa/MasterCard/Discover/Debit/Certified Check or Money Order
Produced By: A.I.M. Enterprises, Inc. phone: 330-405-9421
(c) Copyright 2011 All rights in all media reserved.
Used Porta Wrap II Shrink Wrap Wrapping Machine Used for Shrinkwrapping Shrink Wrapping Artwork, Used Cavalier Portawrap Porta-wrap II 2 Used Machine Used for Shrinkwrap Artwork, Shrinkwrap Supplies, Shrinkwrapping Shrink Wrapping Artwork, Used Gallery Frame Shop Equipment for Sale, Pre-Owned Used Picture Framing Equipment for Sale for Frame Shops Art Galleries, Buy Used Framing Frame Shop Equipment Store, Selling Sell Your Framing Equipment, Buy Used Framing Equipment, Discount Framing Equipment, AIM Enterprises Inc Dealer Distributor Supplier of Used Framing Equipment